We're close to wrapping up my Days of the Dead tour, but there are still plenty of surprises to come!
New Books, Novellas and Stories!
First off, I'm introducing a whole new six-part novella series set in the Ascendant Kingdoms world featuring Blaine McFadden and his convict friends during their time in Velant Prison and Edgeland colony—the 'missing' six years at the beginning of Ice Forged. King's Convicts Novella 1: Arctic Prison begins right where the prologue of Ice Forged leaves off, with Blaine and Verran on the ship bound for Edgeland!  Available now–Read it here (available on Kindle, Kobo and Nook): https://amzn.com/B017DZ787M
And a second Blaine McFadden short story during the Velant years, No Reprieve, comes out in December (available for pre-order) https://amzn.com/B0151YRCPA
Just in time for Halloween—Spook House, a Deadly Curiosities Adventure short story, is available now! Cassidy and Teag have their hands full when a haunted house attraction gives guests more supernatural scares than they bargained for! https://amzn.com/B017ABS8R8
Vendetta (Book 2 in the Deadly Curiosities novels) comes out Dec. 29 but it's available now for pre-order! https://bit.ly/1ZXCPVS Launches Dec. 29
And the first new addition to the Chronicles of the Necromancer series in four years—The Shadowed Path—is a PRINT and ebook collection of the first 10 Jonmarc Vahanian Adventures PLUS an exclusive, never-before-seen 11th story that's ONLY in the collection. Coming in 2016, pre-order here: https://amzn.com/1781084394
New Blog Posts
EC Ambrose and I talk about the occupational hazard of going down the research rabbit hole https://ecambrose.wordpress.com/2015/10/29/guest-author-gail-z-martin-days-of-the-dead-tour/
I chat with The Writers' Lens about strategic short stories https://www.thewriterslens.com/2015/10/gail-z-martin-strategic-short-stories.html
Jacey Bedford hosts me for a quick Q&A https://jaceybedford.wordpress.com/2015/10/30/gail-z-martin-five-questions-guest-post/
Why urban fantasy loves its tainted talismans https://thebookplank.blogspot.com/2015/10/blog-post-cursed-relics-and-urban.html
Why promoting your book is as important as writing it https://www.ismellsheep.com/2015/10/promoting-your-book-is-as-important-as.html
Selling Your Soul for the good of the craft https://davebrendon.wordpress.com/2015/10/30/gail-zmartin-guest-post-days-of-the-dead-blog-tour-2015/
Talking Steampunk and Pittsburgh with Sf Bokhandlen Oct. 28 https://www.sfbok.se/ (be sure to do the 'translate page' unless you speak Swedish)
I chat about Cursed Trinkets, Haunted Objects and Deadly Curios with Solaris Books https://www.solarisbooks.com/post/866 
Over at Vonnie Winslow Crist's blog, I muse about how to go about Making Epic Fantasy Epically Epic https://vonniewinslowcrist.wordpress.com/2015/10/31/making-epic-fantasy-epically-epic-by-gail-z-martin/
And MB Weston hosts me pondering Urban or Epic? https://mbweston.com/2015/10/31/guest-blog-post-urban-or-epic-by-gail-z-martin/
Doing the Monster Mash over at Falcata Times  https://falcatatimes.blogspot.com/2015/10/guest-blog-monster-mash-gail-z-martin.html
I've got a favor to ask: If you've liked my books/stories please do me a BIG favor and leave a review on Amazon and Goodreads! Reviews matter a lot! Thank you.
More Giveaways!
The Broad Universe Full Moon blog tour with 30 author blogs and 3 awesome book bundle giveaways runs through 11/7. Find the blogs here: https://bit.ly/1LPBLNR and the rafflecopter for the giveaways here: https://bit.ly/1LRYrtr
The Swaggiest Swag promotion—like a convention in an envelope!—ends tonight! All it costs you is an envelope and a stamp, and you get free swag from me, David B. Coe, Faith Hunter, John Hartness, Stuart Jaffe, Darynda Jones, Christina Henry, Laura Anne Gilman and Jennifer Estep—info here https://www.facebook.com/events/147435758936773/
More Treats! Enter to win a copy of Deadly Curiosities or Iron & Blood!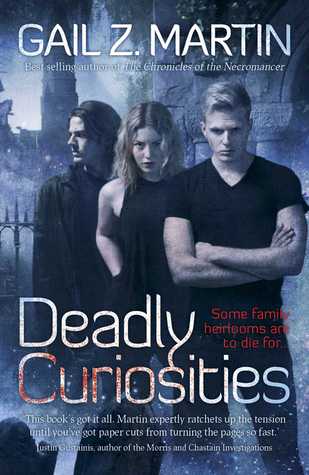 Giveaway ends November 19, 2015.
Win yourself a copy of The Weird Wild West (which includes our Steampunk Storm and Fury Adventure Ruin Creek) https://bit.ly/1iUU8pw
New holiday giveaway with free books, book gift cards and cool stuff from the same bunch of authors (including me!) who brought you The Swaggiest Swag—to enter, just comment on a blog or Facebook page, or join our newsletters, like our pages, details here—the more you enter, the more chances to win! https://www.ltpromos.com/2015/10/31/happyholidays/